A few years ago I wrote this post - now updated with new links:
So this lobbed into my inbox recently, via the official channel of our staff email list:
Mindfulness, Neuroscience and Attachment Theory: A Powerful Approach for Changing the Brain, Transforming Negative Emotions and Improving Client Outcomes
The course costs $335.00 and is available in all of Australia's major capital cities. It's being held at mostly conference-centre type venues, so presumably they're expecting pretty big numbers. There are some pretty big promises here, and as a neuroscientist my alarm bells immediately started ringing.
"…advances in neuroscience and attachment theory have led to revolutionary work in the application of mindfulness in the treatment of anxiety, depression emotional dysregulation, anger and stress."

"…In this seminar, we will explore an integrated approach – incorporating advances in neuroscience, new insights about attachment theory and The Five Core Skills of Mindfulness – that accelerates healthy change and improves client outcomes."

"…Take home cutting-edge information on the interface between neuroscience, mindfulness and therapy. "
Is this workshop endorsed by the APS? Apparently not, though the organisers are somewhat evasive about it:
"APS: Activities do not need to be endorsed by APS. Members can accrue 7 CPD hours by participating in this activity"
So who is this Terry Fralich (LCPC)? (And what does that stand for? Licensed Clinical Professional Counsellor, apparently, although it's not clear which body did the licensing.) According to the official website, "Terry Fralich is an adjunct faculty member of the University of Southern Maine Graduate School and a Co-Founder of the Mindfulness Centre of Southern Maine." [UPDATE: The Tatra website now lists him as a "Former faculty member"]. However, although it seems that there is a Ms. Julie Fralich listed on the official University of Southern Maine faculty list [UPDATE: She is no longer listed, although she turns up in some of the university's publications, and seems to specialise in topics around nursing], there is no Terry Fralich listed. The only mention at all on the website is his wife Rebecca Wing (a co-presenter at the workshops and co-founder of the Mindfulness Center - see below), who is an alumnus of their School of Music (class of '84).
He does show up on a lot of sites about mindfulness, the top hit being his "Mindfulness Retreat Center of Maine", which showcases its lovely views and comfortable accommodation (prices are available on application). They also sell "Books and CDs", although the only actual book listed is Mr. Fralich's book "Cultivating Lasting Happiness - a 7-step guide to mindfulness" [UPDATE: The website now only lists "The Five Core Skills of Mindfulness" for sale, which appears to be a newer book]. According to Amazon, this seems to have been the only book he has written (reviews are generally positive, though one reader found it did not cover any new ground). It seems to be a pretty standard practical guide to mindfulness meditation - nothing wrong with that in itself, I guess. [UPDATE: Here is the Amazon link to "The Five Core Skills of Mindfulness", his second book; this has five reviews, mostly anodyne positive ones.]
So where are this guy's credentials in neuroscience and attachment theory? A search on Google Scholar turned up only the aforementioned books, but no academic papers. His only relevant qualification seems to be a Masters Degree in Clinical Counselling (although I could not find out where this qualification was obtained - if anyone knows, mention it in the comments). Apparently he has studied with the Dalai Lama for more than 25 years; according to his website,
"Prior to becoming a mindfulness therapist, academic and counsellor, Terry was an attorney who practiced law in New York City, Los Angeles and Portland, Maine."
I guess this experience should make him careful about making claims which can't be verified.
Here's a YouTube teaser for one of his lectures:
The PDF link for the program (now no longer active) incorporates sciencey-sounding things like "The triune brain" (huh?), "Fight-or-flight-or-freeze and stress responses", and of course today's essential buzzword, "neuroplasticity". A particularly scary phrase is "Reconsolidation of negative memories: transforming unhealthy patterns and messages." How are they going to teach therapists to do this - these people who have no training at all in neuroscience, attachment theory, memory or indeed, it seems, even CBT?
Delving a little deeper, I had a look at the list of trainers on Tatra Training's website. It seems that a number of them are associated with an organization called the Dialectical Behaviour Therapy National Certification and Accreditation Association (DBTNCAA), allegedly
"the first active organisation to certify DBT providers and accredit DBT programs."
– notably, the appropriately-named Dr. Cathy Moonshine (alcohol and chemical dependency treatment counselor), and Lane Pederson (PsyD, President/CEO). However, this organization is not in any way endorsed by the founder of Dialectical Behaviour Therapy herself, Marsha Linehan. In fact, there is a disclaimer on Cathy Moonshine's site to this effect:
"All trainings, clinical support, and products sold by Dr. Moonshine are of her own creation without collaboration with Dr. Linehan, or Dr. Linehan's affiliated company, Behavioral Tech, LLC. Dr. Moonshine's products are not sanctioned by, sponsored, licensed, or affiliated with Dr. Linehan and/or Behavioral Tech, LLC."
Thus, it seems Linehan herself has a competing company, but she does at least have an impressive CV with many research articles to back her up. When I contacted her for comment on the DBTNCAA and Tatra Training, she did not respond.
Let's have a look at some of the other "trainers" and their biographies. Dr. Daniel Short is listed as a Faculty Member at Argosy University, a for-profit college in Minnesota that has changed its name and is at now being sued by former students for fraud.
Dr Gregory Lester's biography claims that he has published papers in
"The Journal of the American Medical Association, The Western Journal of Medicine, The Journal of Marriage and Family Therapy, The Journal of Behaviour Therapy, Emergency Medicine News, The Yearbook of Family Practice, The Transactional Analysis Journal, and The Sceptical Inquirer".
But a PubMed search reveals none of these publications. An online list from his own website reveals very few relevant publications, and does not even include all of the outlets listed above; instead, there are things like "Dealing with the Difficult Diner", in Restaurant Hospitality, and "Dealing with personality disorders" in The Priest Magazine. In addition, there are several books, which you can presumably buy at his workshops.
Interestingly, his bio also states that
"… he has specialised in Personality Disorders for over 25 years, and has been a participant in multiple studies that form the basis for the DSM V revision of the section on Personality Disorders."
He has participated in these studies? Was he a control, or does he have a personality disorder himself? Because he certainly wasn't an author on any of these studies.
Dr Brett Deacon seems to check out OK. Surprising to find him associated with this bunch. [UPDATE: Brett Deacon is no longer listed on the TATRA site, but all of the others discussed here are still there, as well as many new trainers.]
Dr Daniel Fox is said to be the author of "numerous articles on personality, ethics, and neurofeedback", but only one on neurofeedback (in the Journal of Applied Psychophysiology and Biofeedback) turned up in PubMed. This seems to be a review rather than an original research piece. An author search on "Fox, DJ [AU] and Ethics" returned no hits, and neither did "personality", He also seems to have a book, which comes with optional seminar bundles!
Jerold J Kreisman is another of the Tatra stars and seems to feature as the Borderline Personality expert. The site claims breathlessly that he
'..has appeared on many media programs, including The Oprah Winfrey and Sally Jesse Raphael Shows. He has been listed in "Top Doctors," "Best Doctors in America," "Patients' Choice Doctors," and "Who's Who."'.
It also, more seriously, claims he has published "over twenty articles and book chapters"; however, PubMed only turns up four publications, one if which is from 1975 so is probably not by the same JJ Kreisman. Of the three remaining publications, only one 1996 paper (on which he is third author) is related to BPD, and this seems subject to an erratum (though the erratum itself seems impossible to find; the article seems to have been subject to a Letter to the Editor, which also is hard to find.). The only relevant publications seem to be, again, pop-psych-style books with titles like I Hate You–Don't Leave Me: Understanding the Borderline Personality.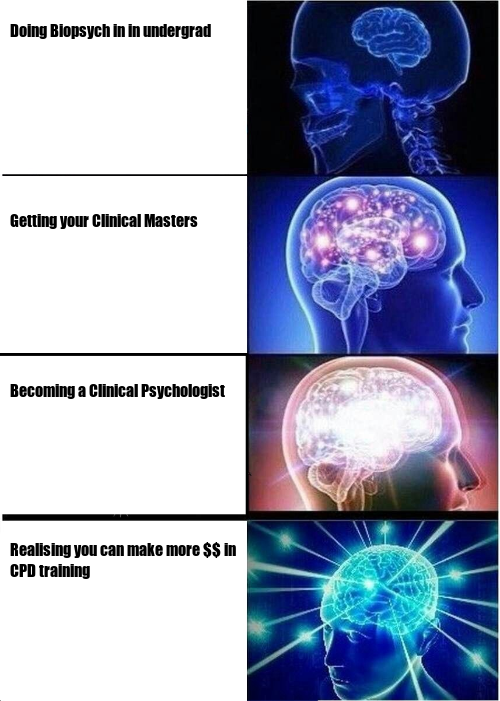 What about Ronald Potter-Efron, the facilitator of Healing the Angry Brain: Changing the Brain & Behaviours of Angry, Aggressive, Raging & Domestically Violent Clients? Again, he is a prolific author of self-help books. Google Scholar and Scopus do turn up about five academic publications, all from the late 1980s and early 1990s. Since then, he seems to have turned to the more lucrative self-help industry.
So all in all, it seems the Tatra Training people work via a fairly aggressive marketing campaign to clinical psychology academic departments and, presumably, clinicians themselves, as well as other "Corporate and Allied Health" practitioners. Their main address is in Adelaide, South Australia; Google Street View shows an anonymous-looking office block. Tatra was founded by Hanna Nowicki (LLB, BA Psych., Postgrad. Soc. Admin, Cert IV Training & Workplace Assessment), who seems to have no qualification in psychology other than her B.A. Psych, although this hasn't stopped her developing and presenting "…multiple workshops on personality disorders, self injury, suicide risk assessment, depression, engagement techniques and introduction to mental health."
Disturbingly, the list of clients includes many government organisations such as Centrelink, Correctional Services, Housing SA, Worklink Queensland, and more nebulously-named organisations such as "Residential Care Services", "Brain Injury and Disability Services", "Public Mental Health Services", "Hospital Social Work Departments", and so on.
How much money are these people making per workshop? Well, if the Sydney venue is anything to go by, the Wesley Conference Centre in Sydney seats 875 people, so if that sells out at $335 a head, that's $293,125. (The Wesley Centre does have smaller venues, so perhaps the organisers aren't expecting such a large crowd. Their general preference for booking conference centres and Leagues Clubs, though, suggests that they are.) If the workshop is held in all five major cities (assume most are smaller than Sydney, so let's be conservative and assume gross takings of $200,000 per workshop), then that's a tidy sum ($1m per workshop, so $2m per year if only 2 workshops are held, as in 2014 and 2015). Of course one must subtract venue hire, advertising costs, speaker fees, catering, etc. etc., but all the same this seems quite a promising business model, particularly when combined with the in-house training offered.
I am concerned that these people are pushing a product that is not what is advertised, and claiming to be experts when they are not, sometimes supported by what seem to border on fraudulent claims. I am concerned that naïve young mental health professionals, looking for accreditation hours, are being fed misleading information that is not based on scientific evidence. If anyone has direct experience of these workshops, I would be very interested to know about it.